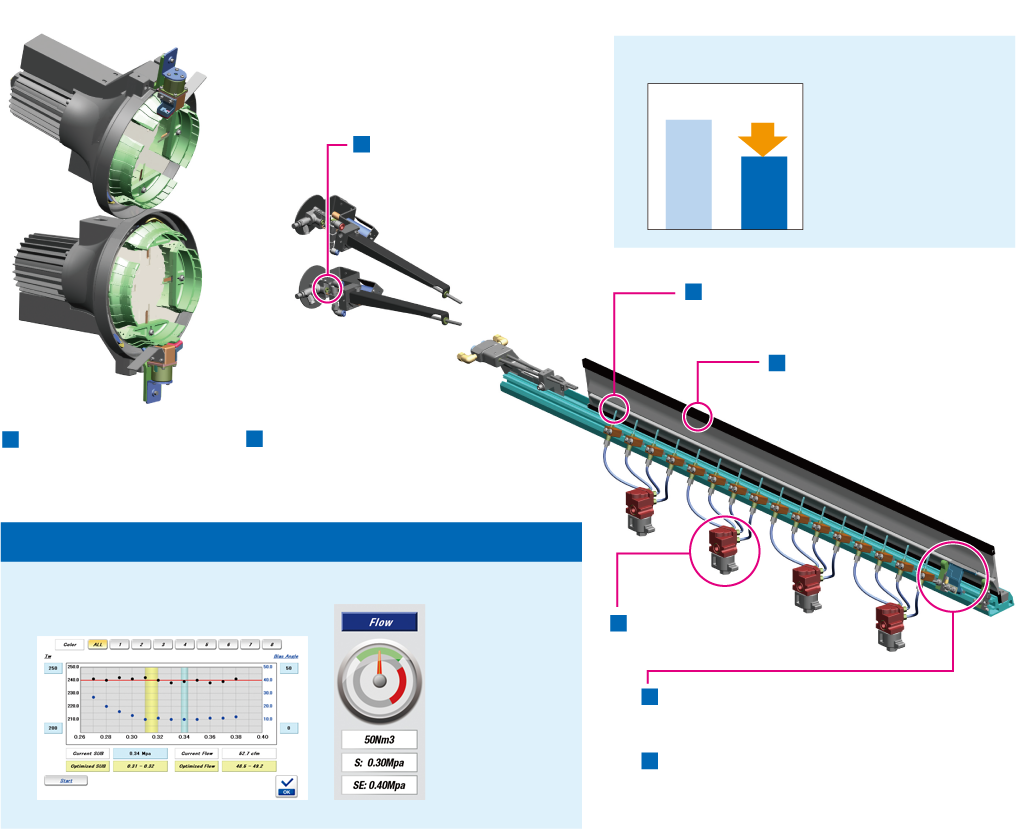 Air Pressure
20% DOWN
The new Air-Saving System achieves low-pressure weft insertion. It also enables a reduction in supplied pressure from the air compressor.
Conventionalmodel
JAT810
Automatic Brake System (ABS)*
Prevents yarn breakage bycontrolling peak weft tension, while providing effective air savings.
New Tapered Sub Nozzle
Optimized taper angles allow even more stable weft insertion at a lower pressure.
JAT e-REED
Toyota has developed a proprietary reed that allows weft insertion at low pressure.
New Electric DrumPooling (EDP)
A new high-performancemotor delivers improved responsiveness at higher speeds.
Independent Main Tank by Color
Pressures can be set separately for each color.A newly optimized placement of the tanks andvalves reduces losses in piping distribution.
New High-Efficiency Valve
Improved reliability and service life.
New Front-Injection Stretch Nozzle
This stretch nozzle can be used without damaging the reed.
Automatic Pick Controllers
(ATC, AFC/APC/EPC)
Abundant control devices promote stable weft insertion at high speeds
Advanced Technologies in Pursuit of Further Savings inAir Pressure and Air Consumption
Intelligent Air-Saving System (IAS)*
P Monitor
Air consumption reduction can be achieved by analyzing operating status and optimizing air pressure.
Both operating pressure and air consumption can be monitored. Alarm functions make it easy to control operating costs.